My apologies up front for the length and complexity of this post and release. But we hope it will be of interest and concern to you. It will require that you read it carefully.
Last Thursday my attorneys filed a lawsuit against Donald Trump, Jr. The lawsuit has to do with slanderous defaming tweets Trump Jr sent out around May 3rd last year, ie a few days before the West Virginia Primary election. Essentially, Junior's tweets said, "that I went to prison for actions that led to the deaths of twenty-nine coal miners". This statement is totally false.
We drafted a press release Thursday night explaining why we sued Trump Jr. Our intent was to inform as many Americans as possible. We sent the press release to a company called PR Newswire. PR Newswire is a major distributor of news stories and articles throughout the country. PR Newswire charges a fee for distributing press releases and we were paying that fee in advance. However, PR Newswire refused to distribute our release. They sent us an email explaining why.
We then sent them another press release and again offered to pay them their regular fee to distribute it. This second press release simply said that PR Newswire would not distribute our first press release announcing the lawsuit against Trump Jr. We attached to this second press release their email to us.
PR Newswire then sent us another short email saying that they "would not partner with Don Blankenship".
Our hope is that by sharing this exchange between ourselves and PR Newswire the public might gain a better understanding of how difficult it is to defend yourself against slander and defamation by American elitists, government officials and the national media.
It is my opinion that our Democracy cannot last if citizens cannot get their messages broadly distributed to the public. If government officials and their families can engage in slandering and defaming an American who is on the verge of winning an election for the US Senate how can American voters make a proper voting decision.
It is frightening enough that the government and the media will not tell the truth about my prosecution and the explosion, but it is doubly frightening when major distributors of press releases will not distribute the truth.
FYI, following in chronological order is 1). our original press release explaining the lawsuit against Trump Jr., then 2) the email from PR Newswire saying they cannot distribute the release, then 3) our second press release, then 4) their response to it:
1) ORIGINAL PRESS RELEASE:
2). PR Newswire Email Response to Press Release
Hey (Staff Member) I just met with my management team and unfortunately they concluded that we are not able to move forward with the account setup or release distribution for Don Blankenship. The content is inflammatory and contains libelous verbiage that just doesn't fit within PR Newswire guidelines. There isn't an opportunity for rewrite for this type of content either. PR Newswire cannot distribute content that is accusatory of others, especially those in political positions and government, along with slander and libel – most of this press release contains this. Let me know if you have any questions. I enjoyed chatting with you today and I'm sorry we couldn't move forward on this. Best, Julianna
3). THE SECOND PRESS RELEASE WE SUBMITTED TO PR NEWSWIRE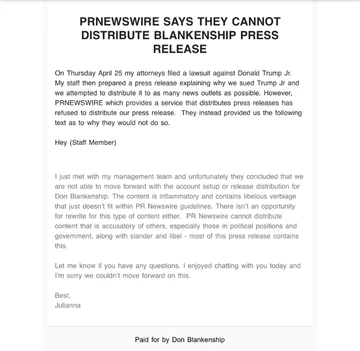 4.) RESPONSE FROM PR NEWSWIRE REGARDING SECOND PRESS RELEASE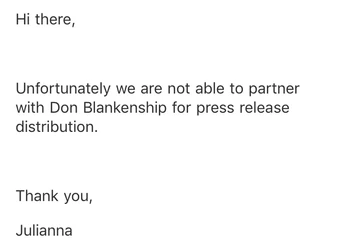 BELOW IS THE BOTTOMLINE
PR NEWSWIRE NOT ONLY REFUSED TO DISTRIBUTE OUR PRESS RELEASE IT APPEARS THEY WILL NOT ISSUE ANY DON BLANKENSHIP PRESS RELEASE.
As for suing Trump Jr. it is unfortunate that I had to do so. No doubt many of you will feel I should not have.
Whatever your view please feel free to let us know what you think of all this.
Don Blankenship