More evidence is surfacing that Trump and some Republicans are starting to understand what McConnell really is. See the article below.
By Tyler Durden
Authored by Michael Washburn via The Epoch Times (emphasis ours),
The swift escalation of the feud between former President Donald Trump and Senate Minority Leader Mitch McConnell (R-Ky.) does not help inspire candidates or rally GOP voters in closely watched midterm races in swing states, some political strategists and analysts have told The Epoch Times. The Republican Party infighting may ultimately lead to more disappointing results in the midterms than have been predicted in recent months, unless party leaders can unite on the issues that the electorate cares about most to galvanize voters, they say.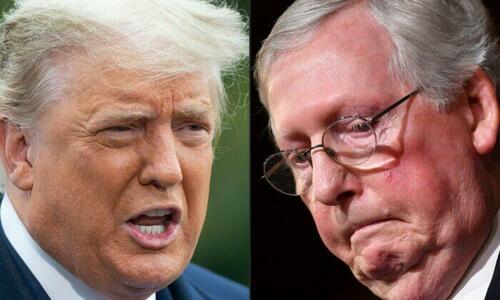 Over the weekend, the former president and expected 2024 candidate sent out a fiery post on Truth Social, in which he called McConnell "a broken down hack politician" and denounced the senator's perceived tendency "to openly disparage hard working Republican candidates for the United States Senate."
"This is an affront to honor and to leadership," Trump wrote, adding that McConnell "should spend more time (and money) helping them get elected" and less time helping his wife and family get "rich on China!"
McConnell's wife is Elaine Chao, who served as Secretary of Transportation during the Trump administration. Trump's post was in response to McConnell having cast doubt on the quality of Republican candidates in the primaries that have taken place in recent weeks and in the ongoing midterm races. On Aug. 17, McConnell said, in the course of remarks at a luncheon in Kentucky, "I think there's probably a greater likelihood the House flips than the Senate. Senate races are just different—they're statewide, quality has a lot to do with the outcome."
McConnell went on to comment on what he sees as the likely razor-thin margins of victory for either side in November.
"Right now, we have a 50-50 Senate and a 50-50 country, but I think, when all is said and done this fall, we're likely to have an extremely close Senate, either our side up slightly or their side up slightly."
Trump may have been particularly sensitive to such comments given the close attention given to Senate races where insurgent candidates he has endorsed are competing against Democrats, such as in Pennsylvania, where TV personality Dr. Mehmet Oz is running against Democratic candidate John Fetterman for the seat vacated by Republican Sen. Pat Toomey; Ohio, where author and personality J.D. Vance seeks to defeat the Democratic nominee Rep. Tim Ryan; Arizona, where venture capitalist Blake Masters seeks to oust incumbent Democratic Sen. Mark Kelly; and Georgia, where former football star Hershel Walker (also endorsed by McConnell) is running against Democratic Sen. Raphael Warnock.
Some of the GOP candidates are not doing nearly as well as hoped, according to recent polling. In Pennsylvania, a Trafalgar Group poll on Aug. 22 found Oz trailing Fetterman by nearly five points. In the Arizona race, the incumbent, Kelly, enjoys a nearly nine-point lead over Trump-endorsed Masters, according to FiveThirtyEight polling.
An Unneeded Distraction
The quarrel between Trump and McConnell is not only unnecessary, since the two politicians agree on more than they disagree on and both want to help defeat Democrats, but is also an increasing distraction from the issues of concern to ordinary voters. Public discontent with the Biden administration's handling of economic and social matters could provide the groundwork for broad GOP victories in the absence of such a distraction, the analysts say.
"I think voters are more concerned about issues like inflation, immigration, and crime, they're not sitting there saying 'Oh my gosh, Donald Trump is disparaging Mitch McConnell's wife,'" John Feehery, a strategist, commentator, and former press secretary to Rep. Dennis Hastert (R-Ill.), told The Epoch Times.
Feehery finds it particularly ironic that, after having appointed Chao to a top cabinet position in 2017, Trump should single her out for criticism on the grounds of her involvement with her family's business, Foremost Group, which has receivedfinancial support from Chinese state-run entities. Chao resigned her post five days after the events of Jan. 6, 2021.
"It's ironic that he's disparaging McConnell's wife, because she worked for Trump for four years. If he had known that McConnell's wife is so involved in this stuff, why did he have her in his employ for so long?" Feehery asked.
More importantly, Trump's criticisms of McConnell are needlessly divisive and undermine the efforts that McConnell is making to help candidates in swing states where results may be extremely close, Feehery believes. Feehery contrasted the financial backing that McConnell has provided to candidates with the more symbolic support of an endorsement.
"Frankly, McConnell is spending time and resources to get Senate candidates elected. It's not clear to me where Trump's money is going. He's clearly making bets, but is he making large financial investments? He's giving his good name to these candidates and that means something, there's no doubt about that. But McConnell is buying in, his Super PAC is going in, in a big way," Feehery continued.
Economy Above All
From the candidates' point of view, the most practical thing is not to take sides with either Trump or McConnell in their current tiff but to present themselves as unifiers—at least within the GOP—willing and able to take on the policies of the Biden administration on the issues of concern to the average voter, Feehery believes.
"I think it's never a good thing when Republicans are fighting with one another. There also seems to be a spat going on between McConnell and Rick Scott," the Florida senator, Feehery said.
Such disunity can deprive candidates on the ground of votes they badly need and may even contribute to a scenario where disaffected Republican leaders are actively helping the other side.
"You do have that. Liz Cheney and the Never Trump people, they've been trying to get people to vote against Republicans. She said terrible things against Josh Hawley, and said she couldn't support Ted Cruz. She seems like someone who'd burn the party down on her way out," Feehery said, alluding to Cheney's recent remarks in which she said it would be "very difficult" for her to support Hawley or Cruz after they questioned the integrity of the 2020 election results.
The infighting does not help Republican candidates who want to portray themselves as in a strong position to fix an economy derailed by President Joe Biden, Feehery believes.
"I think the best thing these candidates can do is to keep their focus on Biden. The one thing that unites the party is Biden's dismal performance," he said.
Struggling Campaigns
Other observers and strategists echo the view that Republican candidates should keep their focus on Biden's Achilles heel, namely inflation. Straying from the critical issues has been a tactical and logistical mistake, they argue.
"The Republicans are united in their criticisms of President Biden and the direction in which the Democrats want to take the country. Clearly, what they ought to do is circle the wagons and do the best they can" on economic issues, D. Stephen Voss, a professor in the political science department at the University of Kentucky, told The Epoch Times.
Given the widely criticized missteps of the Biden administration, and its association in the public mind with record inflation, the Senate races should not be as competitive as they are, Voss believes.
"Not only have Trump's attacks on other Republicans weakened the unity of the Republican Party, but the party's organizations have had to spend massive amounts of election money in the primaries trying to hold off fairly weak candidates so that they could retake the senate," Voss said.
"So already, this clash between the Trump movement and the Republican establishment has hurt the party's resources by causing campaign resources to dwindle," he added.
The infighting and a potential backlash against Trump could have bad practical consequences on the field, including disappointing results for Trump-endorsed candidates in swing states at a time when control of the Senate hangs in the balance, Voss believes.
"The race everyone's talking about now is Pennsylvania, where Dr. Oz received the nomination but now his campaign might end up costing the GOP a Senate seat that should have been theirs. We're seeing how badly Oz is starting to trail in the polls. Oz is underperforming and may not get that seat," he added.
A similar phenomenon is at work in Ohio, where J.D. Vance currently looks weaker than an insurgent GOP Senate candidate in the state should look at this juncture, Voss said.
Other examples abound. Normally, a popular GOP Senate candidate in Georgia would be doing quite well in the polls, given the political composition of the Georgia electorate and given how opposition parties historically have performed during midterms. But Voss called the Georgia race "one of McConnell's headaches." Voss also pointed to the Arizona Senate race, where Democratic Sen. Mark Kelly may end up handily defeating the GOP insurgent in what should have been a much more competitive race.
Again, the possible results run counter to trusted historical models going back to the presidency of John F. Kennedy, Jr.
"The party that holds the White House has not gained more than two Senate seats since JFK, yet the forecast now suggests that the Democrats could gain two or more seats. Prospects for the Republicans taking the Senate are poor, despite the fact that the president is unpopular," Voss said.
"You can't blame Trump for this. Having unexpected candidacies has hurt the Republican Party, but so has the ruling on abortion, which has whipped up Democrat voters," he added.
David Carlucci, a former New York State senator who now works as a political commentator, also believes that the disunity is hurting the Republican candidates, and that the divides may grow as some who received Trump's support during the primary races may now seek to identify more closely with McConnell.
"Historically, the minority party, or the party opposing the president, does well in the midterms. And with all the criticism that the Democrats are getting, the Senate Republicans should be doing a lot better. But because they've endorsed these subpar candidates, things like this are eating away at the candidacies and giving Democrats a much better chance than they had before. McConnell was fun and easy to attack in the primary, but now they're going to be sprinting to him," Carlucci said.
McConnell Lowering Expectations
Keith Naughton, president of Silent Majority Strategies, a consultancy based in Germantown, Maryland, concurs about the political costs of the lack of Republican unity.
Click here see the original article.