MR TRUMP: I AGREE WITH YOU ABOUT NY TIMES
But Mr. President Trump; Are your friends at Fox and Your son, Jr also Horrible people for influencing WV voters with their lies? I assume you agree that I was right to sue them. THEY PLAYED IT VERY BADLY.  THEY SABOTAGED A FEDERAL ELECTION.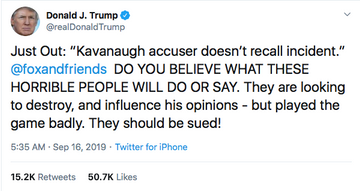 MR PRESIDENT BEING THAT WE AGREE —WOULD YOU BE WILLING TO TESTIFY ON MY BEHALF AGAINST YOUR SON JR AND NAPOLITANO?  WORKING TOGETHER WE CAN STOP FOX NEWS, NY TIMES AND JR FROM SLANDERING GOOD PEOPLE JUST LIKE WE COULD HAVE BEAT JOE MANCHIN
Mr President: At least NY Times retracted their statement. When will Donald Trump, Jr do the same?